I spent the week of 18-26 August in Salem, South Carolina, at the Metropolis of Atlanta's Diakonia Retreat Center. I had been invited to return as chaplain for the 2019 Liturgical Arts Academy.
AN OVERVIEW OF THE ACADEMY
THE 2019 LITURGICAL ARTS ACADEMY offered courses in chant, iconography, and textiles. Each day Matins and Vespers services were offered, and two Divine Liturgies were served. This year, we had the added benefit of the presence of His Grace Sevastianos of Zelon, and so were able to conduct a hierarchal Divine Liturgy as well.
Breakfast, lunch, and dinner were communal. Each evening, presentations on the arts studied during the week were offered. Participants from all over the country, of varying ages and stages in life, and of different skill levels were able to mingle and converse amongst themselves and with their instructors.
The value of such interactions cannot be underestimated. The interpersonal relationships initiated, developed, and deepened reduce the sense of isolation that has perhaps prevailed to a point in the history of the Orthodox Church here in the United States, owing to our land's vast expanse. Of course, the Internet has shrunk the country in some sense, but cannot replace in-person engagement.
Particularly important is the humanization of the instructors. In their respective circles they all have to one extent or another a name and reputation that geographical distance can amplify and objectify. Students being able to not only meet these individuals and learn from them in a classroom, but to spend five to six intense days worshiping, dining, learning, and living in a retreat-like setting makes the whole experience less about simply being able to say "I met and learned from so-and-so" and retaining technical information, and more about witnessing how that information is embodied in the community. When it comes to what might make arts liturgical, what more could be desired?
The instructors are eminently qualified, and they are there as much to teach as to be invigorated. They give and receive. Fr. Anthony Salzman—who, together with his wife, Presbytera Christine, first initiated the Liturgical Arts Academy through their parish of St. Philothea in Watkinsville, Georgia—teaches iconography. In conjunction with elements of art history, technique, color theory, and the like, he leads his students in the ground-up painting of a portrait-style icon. This year the students' subject was St. John the Baptist.
This year's new addition was liturgical textiles, taught by Presbytera Krista West, of Salem, Oregon, a tailor and purveyor of vestments and other ecclesiastical textile products. Her students drafted and constructed a brocade icon stand cover. A parallel and complementary project was a square embroidered piece, to be layered on the brocade cover. Students with varying levels of experience and skill were also shown cutting techniques and given pointers on things that one might never think of, such as how to properly carry a cut piece of fabric.
The ecclesiastical music component is by far the largest. The music is of the Byzantine tradition and is taught at three levels by three formidable teachers: John Michael Boyer (advanced), Gabriel Cremeens (intermediate), and Samuel Herron (beginner). Not only are these three men accomplished cantors, but all of them are at the forefront of the efforts to compose music for existing and emerging English translations of Greek liturgical texts, using traditional methods. In their own work with English texts, they're also learning how to organically adapt and evolve traditional compositional techniques to the peculiarities of English accentuation. Being able to hear their compositions chanted by choirs in worship helps them hone their craft.
There is more that can be said about the Academy and its instructors and students and their particular offerings, but I'll leave that to them. Since I was there as chaplain, what follows now are some of my observations from that perspective.
---
THE PRIEST
AS AN INTERSECTION OF
LITURGICAL AND PASTORAL
AS CHAPLAIN, it perhaps goes without saying that I was afforded a unique perspective at the Academy. To be in the position to oversee and lead our cohort in worship is of course not that unusual for someone who serves in one of the larger, more liturgically active parishes in the Greek Orthodox Archdiocese of America. However, there were some aspects of being the chaplain of the Liturgical Arts Academy that made an impression on me, and I will reflect on them here in two categories: liturgical and pastoral.
Liturgical
As noted above, each evening was ushered in by Vespers, each morning by Matins. These liturgical poles quickly did their work in anchoring the days firmly in compunctionate and beautiful worship. These services were of course augmented accordingly for the occasions we were able to offer the Divine Liturgy.
The morning program was perhaps what made the greatest impression on me. I am generally not what one might call a 'morning person'. But having the responsibility of getting to the katholikon (more on that below) before everyone else, to illuminate and cool it, put things in order as much as possible, and generally prepare for the service provided plenty of motivation.
Matins began at 6:45 a.m. From my cabin to the katholikon was about an eight-minute walk, so I made it a point to leave my cabin by 6:00 a.m. each morning. The first morning, I hadn't considered how dark it might be. The only illumination came from the big, bright moon. Taking that walk in the moonlight on a gravel road through the woods was an experience in itself. The only sounds were my steps on the gravel, whatever bugs might have been chirping or buzzing at that hour, occasional thunder, and, one morning, torrential rain.
In the cathedral of trees were the first words of praise drawn up.
On more than one occasion—while saying prayers or reciting psalms on that walk, looking up to the sky, feeling the breeze, managing the unsettling, primordial fear of darkness that lingers deep—I felt a primal connection to God's creation. It was as if I could hear David, under the stars, exclaiming: "How great are your works, O Lord!" "Praise him, sun and moon; praise him, stars and light!" "Let every breath praise the Lord!" Is it any wonder that our monastic fathers and mothers, living in places far from urban bustle and suburban drabness, might be able to speak to us of pure prayer inspired by, and offered in, the grandeur of nature?
Thus in the cathedral of trees were the first words of praise drawn out of this now-urban priest, a true (if incoherent) proemial psalm for what lay around the bend.
The Katholikon
Coming to the katholikon around that final bend in the road, I was greeted by the silhouette of its cross-capped dome and bell tower, like a flat black cutout, chromatically united with the jagged outline of the surrounding woods out of which it rose against the still ink-blue sky. With or without clouds, the scene was impressive.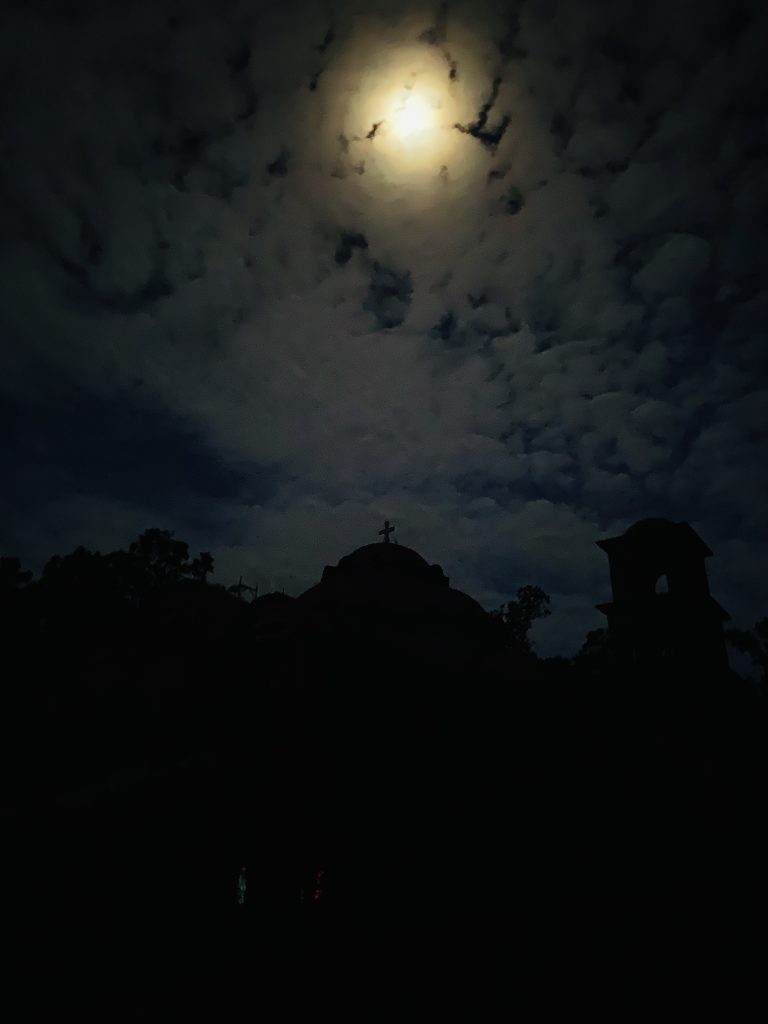 A katholikon is the main church in the context of an arrangement where there are smaller churches in the area. This term is usually used to refer to the main church of a monastery. In the case of this edifice, it has surpassed this role, we might say, since it seems to have rendered the older camp chapel, dedicated to St. Stephen, obsolete. The katholikon structure has an upper naos and a small chapel on the lower level, which annexes a multipurpose space. The lower space is accessed at ground level through a center door. The upper portico is flanked by a curved grand staircase, clad in masonry and marble. The building is a cross plan, boasting a central dome surrounded by half-domes. It has open, colonnaded aisles.
There is no narthex, but the portico is spacious. Entry is gained through hefty wrought-iron doors, arriving at two wooden pangaria on either side of the main door, and two icons—Christ on the right, the Virgin on the left—mounted in ornately-carved wooden proskynetaria attached to columns just a little farther in and to either side. The floors (inside and out) are adorned with impressive and expansive opus sectile stonework, both with geometric and natural motifs, as well as animal figures. The centerpiece is a large map of the earth directly beneath the center dome.
The transepts house the choirs. Their apses dwarf the wooden stasidia that line the interior of the temple. Each transept has a flat-topped analogion at its center.
The sanctuary runs the span of the liturgical-east end of the space (the building is literally dis-oriented, facing west-southwest instead of the more traditional east). It has a full synthronon. The large, marble altar is covered by a hefty marble ciborium. The holy table is flanked at some distance by two other, independent tables (their intended function was not clear to me). On the 'east' walls that span from either terminus of the synthronon are two apses—the 'north' being the prothesis, the 'south' the diakonikon. In its 'south' end is also a spiral staircase descending to the lower level. The icon screen is all marble and low-profile, with small panel icons mounted above each marble panel; its three gates are of shiny brass. There is a relatively shallow soleas demarcating the front portion of the bema, with a marble bishop's throne on its 'south' side.
Natural lighting is provided by arched windows, which are alternately tinted blue and red. The windows themselves are somewhat garish to the eye in a space of bright marble and whitewashed plaster. However, their filtration of the light works to interesting effect throughout the day. How this arrangement will eventually work with the pending iconography program is yet to be seen.
The building exhibits some architectural peculiarities. The more obvious one is that it does not face east. One that stands out immediately—at least at this phase of the building's development—are the four floor-to-ceiling columns supporting the main dome. They are tapered and polygonal, and have a series of arched niches on every other façade, each of which are wired for electricity. Apparently, at some point they are to house some kind of variable lighting behind frosted or tinted glass. In any case, they do not match or coordinate with any other element of the building, so it will be interesting to see how they will be integrated visually once the space is vested in holy icons. At this time, the katholikon appears to lack a water source and drain, as well as a vestry.
The one thing left to mention in this description is the acoustic environment. With a few bodies in the space, the reverb decay is about five seconds, as informally tested under the central dome. This is at once one of the most intangible and yet important elements of the description of this space. I cannot speak to it at length, as I am not technically qualified to do so, but I will simply state that nearly anyone who had anything to say about the acoustics of the building used a single word to describe their aural experience in worship: "enveloped". As with all spaces, this resonance will change over time with the addition of iconography, furniture, other such appointments, and with the flux of worshipers at any given service. Below is a recording from one of the services, which may help give a sense of the acoustic environment, but certainly cannot do it justice.
The Darkness and the Light
Now, back to that morning darkness.
It continued into the katholikon. Upon entering, the slightest sound swelled into the deep, dark space. There was as yet no working electric lighting, and so the only lighting possible was that from flame and that from sun. Entering into the dark temple, I had to fumble around for the cheap, plastic cigarette lighters I knew were set somewhere on the pangari. Once found—*flick* let there be light—the first of the beeswax candles were lit. Even from those small flickering pinpoints of light, the distant ciborium in the midst of the sanctuary was faintly visible. I don't think I ever realized that a small flame could carve so far into darkness. One could not help but think with more appreciation on Christ's words "let your light so shine before men" and how such a light "gives light to all in the house"—even if the light we are able to offer is relatively small.
The persistent darkness and quiet, and the time I was afforded by arriving when I did, were conducive to prayer before the appointed start time for Matins. Thus it almost seemed natural to say, at least in part, the Midnight Office—and so I did, and I was joined by at least one other early riser on a couple of occasions for this. While this of course approaches and approximates monastic practice, and would not necessarily be implemented in parish life, the environment made it seem almost sinful to not offer these short prayers, given the opportunity.
These very services are what they are because of light. They mark the boundaries of day and night.
Once the time came to begin Matins, at "Blessed is our God . . .", it was still dark, though light was slowly but steadily starting to fill the space. As the service progressed, so did the ambient light levels, until candles were no longer needed at the altar or at the analogia. Relying on this type of lighting—candle and solar—in our worship is simply more conducive to prayer. Our often harsh, intense, even buzzing, electric lighting does not mesh well with the way we worship. Liturgically speaking, things don't usually happen at the flick of a switch. Our services have a rhythm to them that breathes like an organism, rather than buzzing and clicking like some kind of robot. They move and pass through time like sunlight throughout the day; they do not share the abruptness of switch-controlled lighting.
More to the point, these very services—I mean in particular Matins and Vespers—are what they are because of light. They mark the boundaries of day and night—again, by nature gradual and not binary. Vespers (hesperinos, "in the evening") has us gather to witness the setting of the sun, the beholding of the evening light (cf. Phos hilaron). Matins begins in that deep-dark-blue of morning (orthros simply means "early morning" or "morning twilight"), beginning with the Hexapsalm that places us for a time "in dark places and in the shadow of death" (Psalm 87, LXX), and ends with the jubilant doxology "Glory to you who have shown the light!" Being able to offer these services with a more tangible connection to their intended purpose and place was a gift in itself.
Space and Time
The last point of my reflection on my liturgical impressions from the Academy, in some sense, is a reiteration of my description of the building itself. However, in this case, it is more with regard to how it functions, on account of its dimensions and layout, as space where liturgy occurs.
A larger space means a greater amount of time is needed to perform certain liturgical movements. I will focus here on the matter of censing to make the small—but important, I think—point I wish to make. The katholikon is sizable, and has aisles. This means it takes time to make one's way around the temple for a full and proper censing.
Since we had two full—and fully capable—choirs on both the left and right sides of the space, their chanting of the appointed material in a given liturgical moment was able to match the space, and thus the time needed, in a way that harmoniously married the textual and musical contents of the service, and the movements of the celebrant(s), to the plan and acoustic profile of the space.
This means we were able to execute services—without arbitrarily cutting or rushing, or, conversely, adding or dragging—in a way that achieved a measure of beauty that could be considered ideal (for that space) and worthy of imitation. Or, another way to put it: it was an example of how things should be done.
Our performance of liturgical movements and execution of spoken and sung parts must be adaptive, but not necessarily editorial. Otherwise, our performance or experience of liturgy is something full of irregularities and shaped by our own opinions, hangups, anxieties, or misplaced good intentions. In large part, this begins with a knowledgable assessment of the given space. If we do not take this seriously it can affect us in negative ways, even if subtly, and also brings into question of the quality of the offering we are making to God in our worship.
A final note here concerns acoustics. There does not seem to be much value in analyzing the specifics of the acoustics of the katholikon. However, just as was the case with lighting, our voices could not be artificially enhanced. We relied solely on our natural voices and the resonance of the space. It was phenomenal, and an education in how to use one's voice in different ways. For example, as the celebrant, facing the holy table (and, thus, the apse) and intoning petitions, my exertion was minimal. It was as if the building helped pull the sound out of me. In this way, I was able to sustain a bright, strong tone that was resonant and also cut with clarity; on many occasions I was told how clearly I could be heard no matter where one stood in the space. When facing the naos, however, as for preaching, I had to exert my voice and cadence in a different way, to account for the boomier space.
Why mention this? Because microphones and amplification have become our norm. Rather than taking care to build or adapt spaces with acoustics in mind, we build to impress in other ways, knowing (read: thinking) that we can simply fix everything with a mic and a speaker. However, this adds one other layer of dependency between us and the space we are using (what if batteries die or the power goes out?). It also changes the way we clergy, especially, approach and understand intoning and reading certain parts of the liturgical text. For example, in a space like the katholikon, when one intones petitions, and then reads a prayer that is labeled "inaudible" or "mystikos" in plain voice—even at full volume, but not intoned—it is something completely different than when one has a microphone on and people in the narthex can hear every little breath one makes. In other words, our employment of sound systems has perhaps modified the way we understand rubrics that were written for a time that assumed there would be no artificial amplification beyond the shape characteristics of the building itself.
---
Pastoral
This part of my reflection won't be as long as what has preceded. However, what lacks in comparative length here does not lack in personal impact.
One of the things that marks the ministry of a parish priest is administrative work. E-mail. Keeping up with who wants what in the bulletin. Scheduling and planning youth events. Meetings. Budgets. Complaints. You get the idea.
But one of the things that serving as chaplain to the Liturgical Arts Academy afforded me was a week of, we might say, pure priestly existence. I spent my entire day, every day, liturgizing, preaching, praying, having meaningful conversations, and being a beacon of Christ's presence (despite myself) in the midst of his people.
While I anticipated that I might find myself in a situation to counsel one or two people, or perhaps to hear the odd confession, in fact my days saw their fair share of this. I was struck by how many people—Orthodox or otherwise (there were a handful of non-Orthodox in attendance)—seemed broken open a bit by their experience. Was it the idyllic setting? Being away from their daily grind? The communal atmosphere? The worship? The joy and relief inherent in being around so many like-minded people? Certainly all of these things played their role.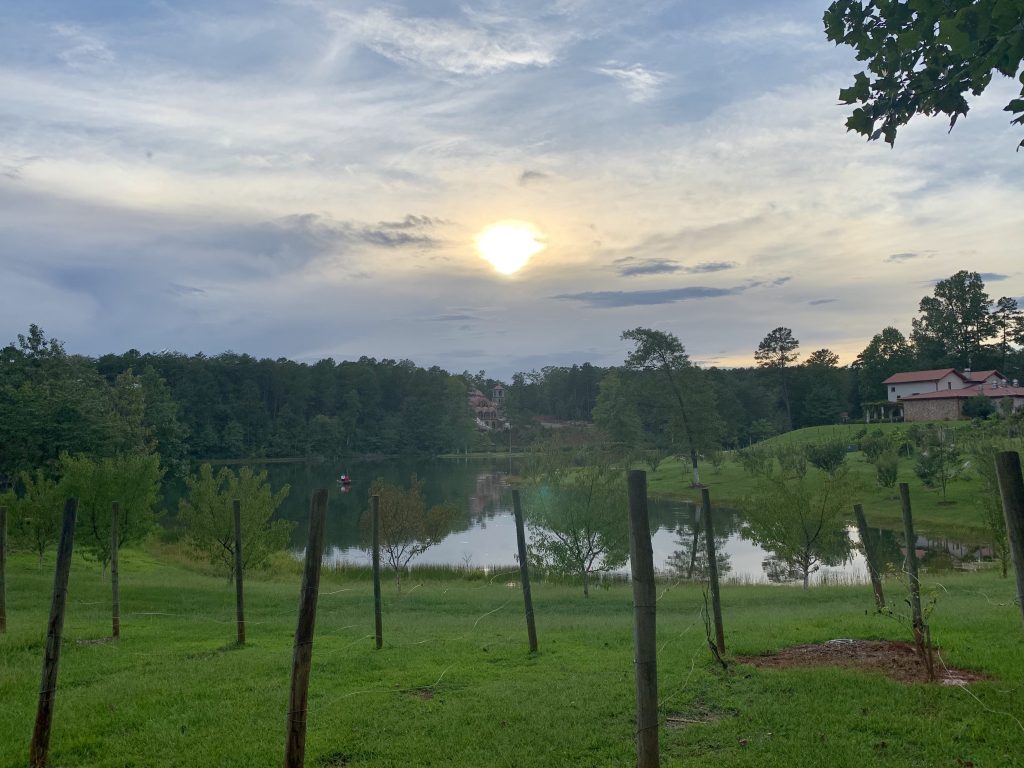 But this shouldn't be surprising. After all, we were gathered together to develop our skills and understanding so as to better make artistic offerings for the sake of worship. Well, worship of whom? Christ. He is the whole reason any of this took place. And he of course assures us that "where two or three are gathered in my name, there am I in the midst of them". It is he who invites us to come to him with our burdens. And the people interested in spending time and money to go to something like a Liturgical Arts Academy are doing so because of some level of above-average devotion to the Lord and his Church. Of course he would provide such relief for his faithful ones.
I made a remark in one of my sermonettes that week to the effect of "without repentance on our part, there can be no real beauty in our work". True beauty in the eyes of God begins with repentance, for it is in the light of repentance that, however faintly, our original beauty can start to be seen. Our heritage of liturgical arts flows from the fountain of repentance—even if from time to time those who contribute do so in a misguided spirit, the Spirit of the Church has a way of purifying misplaced offerings and misguided intentions.
These people I encountered (and, no doubt, those I didn't—I was there with two other priests, who, I know, had their share of encounters as well): how many tears had been dammed up in these people's hearts until this one opportunity to relieve the pressure? For how many did this academy prove to be an unexpected bolt of grace? Glory to him for the gift of the priesthood to his people! Glory to him for his grace and mercy! How could people, endowed with artistic abilities and interests, not then respond by making pictures and songs and glorious garments for him in return?
---
TAKEAWAYS
I left this year's Liturgical Arts Academy with a few takeaways.
I came away a better liturgist (I hope). Being able to serve relatively full Matins and Vespers services daily and two Divine Liturgies, one of which was hierarchal, helped me refresh my book knowledge of services I rarely get to serve in their fullness. I came away feeling more confident and therefore calm and composed—qualities that would serve any liturgist (and therefore congregation) well. This is especially true in parish life, where things have a way of always seeming rushed (particularly Matins, since it is usually attached to the Divine Liturgy, where there are sensitivities to people's time). On a very practical level, I learned a bit more about how to better use my voice.
I came away with a better appreciation for how liturgy is an act of community.* One concrete example is in that the vestments I was wearing all week were made by Pres. Krista West—more precisely, they were made by one of her daughters, who was there teaching with her. Just the act of donning those garments while knowing the person who made them was in the congregation shot me through with a sense of community in a way I hadn't yet experienced. This was also true of leading services while friends were chanting in the amazing choirs with such competence. It was as if we were being knitted together into a single body in this womb of a building.

* For you purists out there, don't worry—this isn't me saying 'leitourgia' means "work of the people".
It was as if we were being knitted together into a single body in this womb of a building.
I came away more conscious of my priesthood. The intense liturgical and pastoral activity of the week truly helped me clarify my identity and self-understanding as a priest. Part of this was due to the purity and quality of the liturgical activity of the week, and part was due to the inadvertent pastoral encounters. I am grateful for the time with the participants of the academy, who reminded me of the importance of simply being there for God's people. But part of it was also due in large part to being able to be present with a hierarch and with brother priests in such an environment. To this end, I express my gratitude to His Grace Sevastianos, to Fr. Anthony Salzman, to Fr. Jonathan Bannon, and to Fr. Constantine Carras for sharing of themselves with me.
I came away encouraged about the state and future of liturgical arts in the United States. We are on the threshold of a potential renaissance here in American Orthodoxy. Our liturgical and spiritual maturity increases as more and more people plumb the depths of our tradition and draw out for others to drink. What may be more important is that this is happening at 'grass roots' events such as the Liturgical Arts Academy, drawing people not simply from one Orthodox jurisdiction, but many. Building and reinforcing these bonds of unity in faith can only help us in an era of ecclesiastical turbulence.
---
IN CONCLUSION
The chaplain serving something like the Liturgical Arts Academy is in a unique position to help those in attendance frame and implement those things they are there to learn and improve upon. He also, like every clergyman, is in a position to more clearly reflect, by means of his person, the intersection of the liturgical and the pastoral. On one hand, he is a tangible reminder in the world of the liturgical event once it has passed, and on the other, in the liturgical moment he stands before God as a representative of those in need of grace and help to walk back out those doors into the world.
I hope, if you've made it this far in reading my reflections here, that you have found something of value in them. Above all, I pray that Christ rewards the work of those who have offered much to his glory and in thanksgiving for his grace and mercy, and that the work of their hands likewise draws others closer to him.
I am grateful to the organizers of the Liturgical Arts Academy for inviting me back to serve as chaplain, and to the hierarchs of both the Direct Archdiocesan District and the Metropolis of Atlanta for trusting me in this role. God willing, I will return next year. I also am humbled to have been asked to serve on the Academy's board. I express gratitude to all of the instructors for their dedication to their specialties and willingness to teach others, and for their continued friendship—may God grant them all many years of faithful service. A special acknowledgement should be made to AGES for providing the Academy with liturgical texts for the entire week. Finally, I thank those participants in the Academy for being who they are and doing what they do, and for their trust as well.

If you think you would be interested in attending next year's Liturgical Arts Academy (May 24-30, 2020), keep your eyes on this site or this page for more information.